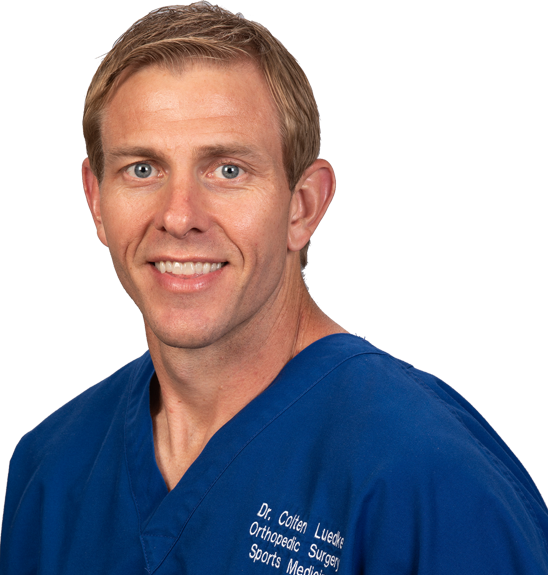 Colten Luedke, DO
Sports Medicine & Orthopaedic Surgeon
Dr. Colten C. Luedke is a board certified orthopaedic surgeon fellowship trained in Sports Medicine and Shoulder Reconstruction. He trained at one of the nation's top fellowship program – Steadman Hawkins Clinic of the Carolinas and is part of a network of orthopaedic surgeons across the country. Dr. Luedke was born and raised in Bellville, Texas and graduated Magna Cum Laude from Texas A&M University in 2004. He obtained his medical degree at the University of North Texas Health Science Center-TCOM in Fort Worth, Texas. He completed his orthopedic surgery residency at John Peter Smith Hospital (Level 1 Trauma Center) also in Fort Worth, Texas in 2015.
From there he trained with some of the best surgeons in the country at Steadman Hawkins Clinic in South Carolina. There he worked providing care to the Greenville Drive, the Boston Red Sox single A affiliate, in addition to the Colorado Rockies while in Scottsdale, AZ.
Dr. Luedke is affiliated with several hospitals in the area including The Physician Centre Hospital, CHI St. Josephs Regional Health Center in Bryan, CHI St. Josephs Hospital in College Station, and Scott & White Hospital. Dr. Luedke has multiple hobbies outside of medicine. He cherishes spending time with his family -his wife Candice, an OB-Gyn at Baylor Scott & White, his son Brooks and Lilly their black labrador retriever. Dr. Luedke spends much of his time hunting and fishing and spending time at the ranch. When extra time allows he can be found back in Bellville providing care to the community or just visiting with his parents Connie and Butch Luedke who still live in Bellville.
Book An Appointment
Education & Training
Steadman Hawkins Clinic
Fellowship
John Peter Smith Hospital
Residency
Texas College of Osteopathic Medicine
Medical School
Certifications & Licensure
SC State License
2015 - 2017
TX State License
2014 - 2020
American Board of Orthopaedic Surgery
Orthopaedic Surgery
Publications & Presentations
PubMed

Dual small fragment plating improves screw-to-screw load sharing for mid-diaphyseal humeral fracture fixation: A finite element study.
Kosmopoulos, V.,Luedke, C.,Nana, A. D.> ;Technol Health Care. 2014 Nov 20

Total knee arthroplasty with concurrent femoral and tibial osteotomies in osteogenesis imperfecta.
Wagner, R.,Luedke, C.> ;Am J. Orthop.. 2014 Feb 04

Outcomes of Anatomic Total Shoulder Arthroplasty with B2 Glenoids: A
Systematic Review. <https://www.ncbi.nlm.nih.gov/pubmed/29664870>

Luedke C, Kissenberth MJ, Tolan SJ, Hawkins RJ, Tokish JM.

JBJS Rev. 2018 Apr;6(4):e7. doi: 10.2106/JBJS.RVW.17.00112.
PMID: 29664870

Arthroscopic Panlabral Repair With Remplissage of Hill-Sachs Lesion.
<https://www.ncbi.nlm.nih.gov/pubmed/28706826>

Luedke C, Tokish JM.

Arthrosc Tech. 2017 Jun 12;6(3):e743-e749. doi: 10.1016/j.eats.2017.02.004.
eCollection 2017 Jun.
PMID: 28706826

Arthroscopic Repair of Posterior Bony Bankart Lesion and Subscapularis
Remplissage. <https://www.ncbi.nlm.nih.gov/pubmed/28706818>

Luedke C, Tolan SJ, Tokish JM.

Arthrosc Tech. 2017 Jun 5;6(3):e689-e694. doi: 10.1016/j.eats.2017.01.016.
eCollection 2017 Jun.
PMID: 28706818

Metastatic endometrial carcinoma invading bilateral total knee
arthroplasties. <https://www.ncbi.nlm.nih.gov/pubmed/28326366>

Luedke C, Crawford WS, Payne J, Sanchez HB.

Arthroplast Today. 2015 Jun 23;1(2):31-35. doi: 10.1016/j.artd.2015.04.001.
eCollection 2015 Jun.
PMID: 28326366

Dual small fragment plating improves screw-to-screw load sharing for
mid-diaphyseal humeral fracture fixation: a finite element study.
<https://www.ncbi.nlm.nih.gov/pubmed/25408282>

Kosmopoulos V, Luedke C, Nana AD.

Technol Health Care. 2015;23(1):83-92. doi: 10.3233/THC-140875.
PMID: 25408282

Total knee arthroplasty with concurrent femoral and tibial osteotomies in
osteogenesis imperfecta. <https://www.ncbi.nlm.nih.gov/pubmed/24490185>

Wagner R, Luedke C.

Am J Orthop (Belle Mead NJ). 2014 Jan;43(1):37-42. Review.
PMID: 24490185
Hospital Affiliations